2021年12月から2022年1月頃公開予定のMinecraft 1.18(洞窟&崖アップデート 第2弾)に向けた9回目のスナップショット(プレリリースとして1回目)が現地時間の2021年11月11日にリリースされました。
Java Edition 1.18 Pre-release 1はランチャーでは1.18-pre1と表記されています。
このスナップショットでは主にワールド生成手法が大きく変更されたことで未対応だったワールドタイプの「アンプリファイド」と「大きなバイオーム」へ対応されました。
追加
全般
ワールドタイプ
ワールド作成画面の「ワールドタイプ」選択欄の「アンプリファイド」と「大きなバイオーム」がMinecraft 1.18の地形生成アルゴリズムに対応しました。
| ワールドタイプ | 説明 |
| --- | --- |
| アンプリファイド | Y=256の最大高度からY=320まで拡大された極端な地形生成がされるワールドタイプ |
| 大きなバイオーム | 山脈と川に関するバイオーム以外は通常の約4倍の大きさ程度のバイオームが生成されるワールドタイプ |
ワールドタイプの簡易説明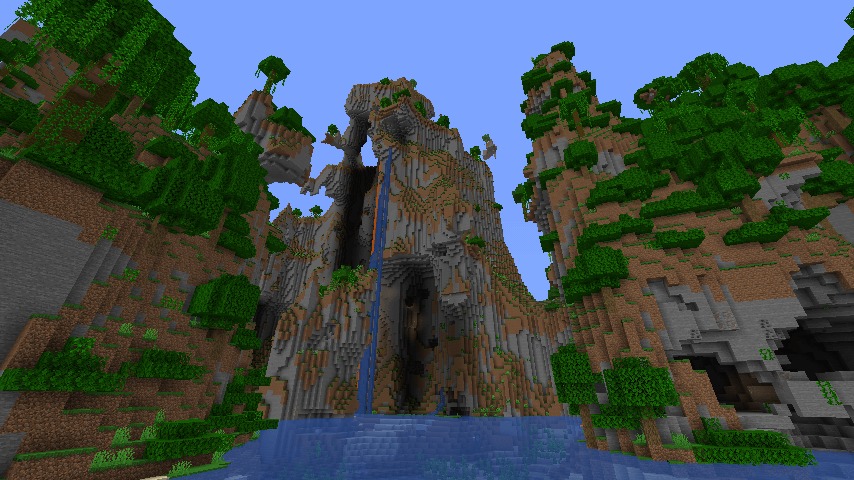 変更点
ブロック
コンジェット
適合ツールとしてつるはしが設定されました。
ワールド生成
旧バージョンのワールドからのアップグレード
チャンク生成アルゴリズムの変更によって新しいワールドと古いワールドの部分にワールドの壁が発生していましたが、地表の高さ、バイオーム、洞窟が21w43aよりスムーズにブレンディングされるようになりました。
深層岩と岩盤がアップグレードされる際に適切に生成が行われるように調整されました。
「Cave carvers」と呼ばれる大きな洞窟がアップグレードの際に適切に生成がされるように調整されました。
全般
ワールドタイプ
「洞窟」と「浮島」のワールドタイプが削除されました。
修正
1.18スナップショット以前からのバグ
MC-46584 – Clicking and dragging MOUSE3 (mouse wheel) over item slots incorrectly attempts to place full stacks in Survival.
MC-53444 – You can get outside of the world border by mounting a rideable entity (boat, pig, etc.) outside of it.
MC-54119 – Can place/take water/lava/lily pads outside world border and inside spawn protection.
MC-62550 – World border not correctly initialized for the End and Nether.
MC-96535 – Ambient property of potion effects with ShowParticles:0b is not disregarded.
MC-113425 – Player can interact with entities outside the world border.
MC-117800 – Half bed can be placed outside the world border.
MC-121997 – Every dimension's world border is operating independently, and doesn't appear where it actually is.
MC-131808 – Forests don't spawn trees near the positive edges, but overstretch bounds on the negative edges.
MC-136523 – Invisible world border in the End dimension.
MC-147122 – You can set your spawn point outside the world border using a bed or respawn anchor.
MC-187174 – World border does not take Nether coordinates into account.
MC-206620 – Cauldron invisible when crawling in it.
MC-206660 – Stalactites don't fall properly if there are blocks directly below it.
MC-215139 – Some water in caves will not start flowing.
MC-219035 – Fossil structures can't generate in far east and south blocks of a chunk.
MC-222388 – Acacia trees under Y=0 often grow with bare branches.
MC-229517 – Conversion sounds for strays and drowned is controlled by Friendly Creatures mixer, not Hostile Creatures.
MC-231666 – Dragon egg can teleport to outside the world border.
1.18スナップショットからのバグ
前回のスナップショットからのバグ
リンク