2021年6月8日公開のMinecraft 1.17(洞窟&崖アップデート)に向けたプレリリース1が現地時間の2021年5月27日にリリースされました。
このリリースでは前回のスナップショット(21w20a)で削除されたろうそくが再実装や新しい進捗が含まれています。
追加
ろうそく
前回のスナップショットでMinecraft 1.18へ延期されたと思われたろうそくが再実装されました。
それに伴いクリエイティブのインベントリとレシピが再実装されコマンドを使用しなくても入手できるようになりました。
鉢植えされたツツジ・鉢植えされた開花したツツジ
設置された植木鉢にツツジまたは開花したツツジを持った状態で右クリックすると鉢植えされます。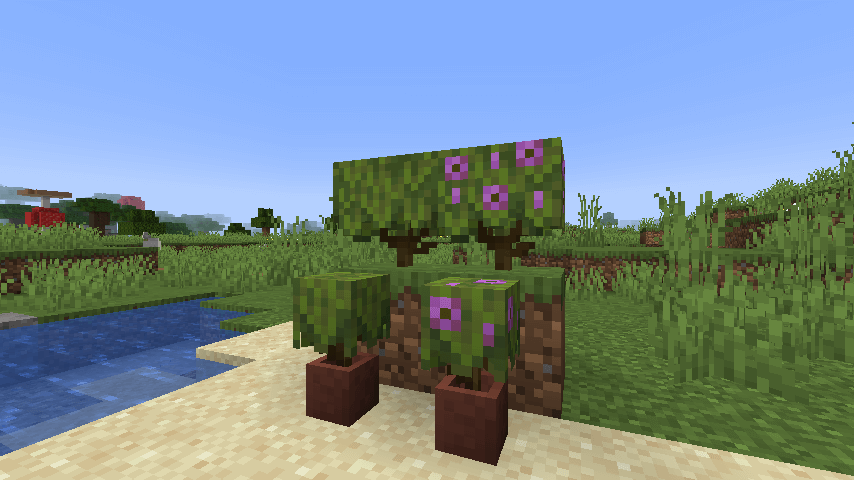 /perfコマンド
統計情報を記録する/perfコマンドが追加されました。
※シングルプレイで試したところ実行できませんでした。(情報求!)
進捗
11件の進捗が追加されました。
新MOBに関する進捗、銅に関する進捗が追加されています。
プレディケート
ルートテーブルや/executeコマンド、ターゲットセレクタ引数で使用されるJSON形式に「lightning_bolt」が追加されました。
スプラッシュ
Minecraft起動直後、右上に表示される文言に11個のテキストが追加されました。
ブロックタグ
「lava_pool_stone_replaceables」と「geode_invalid_blocks」タグが追加されました。
変更
ろうそく
ろうそくに火がついているときと消えているときに使用するテクスチャが使い分けされるようになりました。
看板
輝くイカスミによってテキストが明るくなった文字が更に読みやすくなるように調整されました。
看板が輝いて表示される様子は下記の記事で紹介しています。
ドリップリーフ
大きなドリップリーフと小さなドリップリーフを右手に持った状態のモデルが変更されました。
/debug reportコマンド
/debug reportコマンドが/perfコマンドへ置き換えられたため削除されました。
怪しげなシチュー
ツツジや開花したツツジを使用して怪しげなシチューをクラフティングすることができなくなりました。


バグ修正
1.17以前からのバグ
MC-19690 – Reducing maxHealth / max_health can cause fake death.
MC-65587 – Lag spike while loading player head textures/player skins.
MC-104897 – End crystals placed on exit portals generated before 1.9 do not respawn the ender dragon.
MC-117708 – Credits background jitters.
MC-118757 – Increasing Game State Rain Level values make the game increasingly laggier and distorts UI.
MC-130523 – Void World spawns you at y=0 even if you entered 64 air blocks in customization.
MC-148809 – Structure block data length limited to 12.
MC-163945 – Intersecting structures can create corrupted block entities (spawner / chest).
MC-189336 – ⇧ Shifting around servers in the server list crashes the game (ArrayIndexOutOfBoundsException).
MC-190952 – Apostrophe in "Developers of Mo' Creatures" heading is inconsistent with other apostrophes in credits.
MC-192889 – When placing certain heads or putting them in entities' head slot the game stutters.
MC-197942 – Leaves change to stone near Lava Pool (Recurrence of MC-48340).
MC-198957 – End Portal Frames change to Stone near Lava Pool.
MC-202249 – Angering passive mobs in new nether chunks very far away from previously generated chunks, then entering a nether portal causes server to completely freeze.
MC-203131 – Setting the weight in Template Pool to high values will lag world and can cause out of memory error.
MC-209819 – Server crash when pathfinding to player that is teleporting away.
MC-213062 – A ruined portal generated in an end portal.
MC-218112 – SynchedEntityData is using locks incorrectly.
MC-218972 – The glowing effect outline omits parts of entities if the entity is invisible.
MC-224778 – Game crashes when there is a block with no facing block state in #wall_corals and a warm ocean tries to generate.
1.17スナップショットからのバグ
前回のスナップショットからのバグ